18
th
Annual La Crosse Storytelling Festival
                                                                                                                                                            STORIES–It's what we do!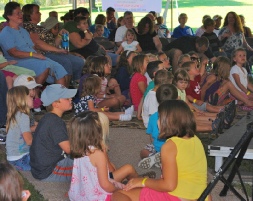 Friday, July 23 and Saturday, July 24

The Pump House Regional Art Center in the Art District of downtown La Crosse.-
Kevin Kling, Bil Lepp, and Kim Weitkamp…..an astounding team of tellers.
Visit 2020 Performers page for more information–soon.
2021 Friday Night–Tales of the Creepy and Scary

Doors open at 6:00 and the stories start at 6:30

Stories in the first half of the night are for all ages; after the intermission, they get scarier.

Beverages and snacks are available for purchase. Complimentary Witches Brew available at intermission..
Join us for the fun……..if you dare!!!
Luna Story Slam at the Fest
It's your turn!!! The story slam is open to all audience members with a story to share. No theme this time–anything goes! Bring a 5 minute (or less story) to be judged by friendly audience members.Stories are from 5:30-6:15 and then the winner will be invited to share their story again at the beginning of the Cabaret at 6:30.

Children's Area from 11am to 2:25pm

Children's performances are FREE–Hans Mayer, Bil Lepp, Doug the Jug and activities–ALL FREE ADMISSION!

Afternoon Performances from 2:35pm to 5:15pm
LUNA  5:45-6:45
Evening Performances from 6:30-pm to 9:40pm
Visit the 2021 Schedule for more information.