Beth Horner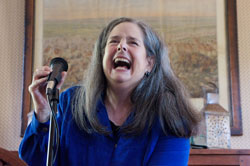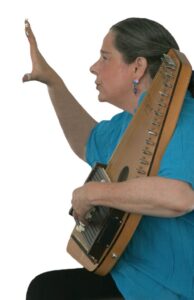 'A wit so sharp you can shave with it!' So said Debi Richan of the Timpanogos Storytelling Festival. We couldn't agree more and are so pleased to welcome Beth back to our La Crosse stage. Beth's stories are renowned for their high comedy and captivating drama. She tells it all–from hysterical childhood escapades to folktales to a bawdy spoof on romance novels to family stories. Beth is not to be missed. A National Storytelling Network Circle of Excellence Oracle Award winner, Beth has performed multiple times at the National Storytelling Festival, on Live from National Geographic and most recently served as narrative consultant for NASA/Johnson Space Center's Story Mining project for which she collected the stories of the scientists behind the Apollo Space missions. Beth often incorporates music into her stories which critics have called 'Dynamite'. Beth Horner takes her listeners on journeys of adventure, warmth, wonder, haunting eeriness and raucous laughter. You don't want to miss Beth Horner!! Find out more about Beth at http://bethhorner.com
Stuart Stotts

Stuart Stotts is an author, storyteller, educator, and songwriter. He's sung with and performed for kids and families in schools, libraries, and community settings around the world since 1984. Stuart is a Kennedy Center teaching artist and a frequent presenter at educational events, keynoting conferences and leading workshops for early childhood and elementary school teachers, librarians, and social service professionals around the country.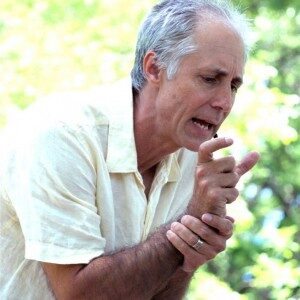 Stuarts performances are funny, engaging and fun! He is an excellent storyteller for all ages. Stuart is also an author of six books and numerous recordings. He often enhances his storytelling with a song or two, much to the delight of his audiences. We are so pleased to welcome Stuart, a Wisconsin native, to our 2023 storytelling festival. Learn more about Stuart at http://stuartstotts.com
Michael Scott

Local favorite, Michael Scott, will be  entertain us with his stories and be the Saturday Evening Cabaret emcee. Michael is the founder of the Old School Variety Show which highlighted local talent, especially storytellers, for many years. Michael continues to entertain La Crosse residents and visitors with his walking tour The Ghost of Historic La Crosse and also his Mark Twain tours. Based on these popular walking tours, Michael is also the script writer, director and actor for the Dark La Crosse performances which focus on the seedier side of La Crosse. Michael has been an emcee and storyteller on our Festival stage for many years and once again we are looking forward to his stories and humor.
Eddie Allen
We are so pleased to have musician Eddie Allen entertain us during the afternoon performances. As Eddie says, "Eddie Allen has been around long enough to come up with a lot of dumb ideas but mostly spends his time making up stories and songs about the people he's crossed paths with in this sliver of light we call a life. He makes his home on the banks of the Mississippi River at Trempealeau, Wisconsin." We know you will enjoy Eddie and his wonderful and fun songs.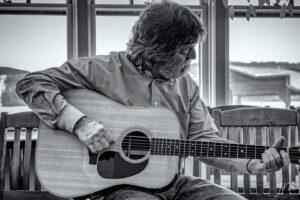 Sue Wrobel and Cindy Selin
Once upon a time…many years ago…Sue and Cindy started working together as teachers of very young children.  They painted, did science experiments, pretended to be any number of people and animals, read and told hundreds of stories, and always, always, always sang songs.  They have both since retired from their work as teachers but continue, whenever they can, to find reasons to share stories and songs with children.   We are so pleased to welcome this energetic duo back to our Arla and John Clemon's Children's Stage for a rocking good time.

 Join them at our FREE children's performances.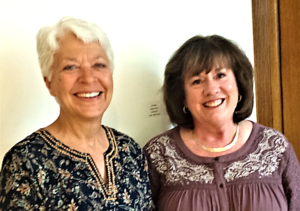 Eulenspiegel Puppet Theatre Company
Storytelling with PUPPETS! For the first time, the La Crosse Storytelling Festival will host a puppet story show! The Eulenspiegel Puppet Theatre Company from West Liberty, Iowa will perform Kate Shelly's Train Rescue. Following the story/show there will be a free finger puppet making workshop.The Eulenspiegel Puppet Theatre was founded in 1974 by Monica Lee and Teri Jean Breitbach. The duo expanded in the 1990's to include other puppeteers and musicians. While based in Iowa, the group has traveled throughout the world sharing their puppets and their stories. This non-profin art organization is known for witty scripts, original and expressive puppet design, and fun shows. During the workshop, attendees will make finger puppets and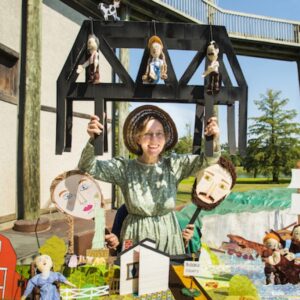 then can use their creations to tell a story themselves. For more information about Eulenspiegel Puppet Theatre Company visit them at http://owlglass.org.   The puppet show and workshop are both FREE AND FOR ALL AGES!
Bluff Country Tales Spinners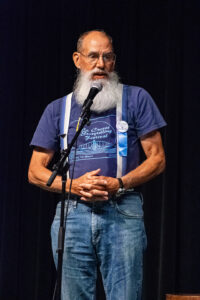 The local guild, the Bluff Country Tale Spinners, will be sharing scary stories on Friday night at our Tales of the Spooky and Scary. They will be joined by our featured tellers Beth Horner and Stuart Stotts. The BCTS was founded in 1998 by Phyllis Blackstone and Sara Slayton and has continued to meet monthly since that time. The local tellers will also share stories on Saturday morning at the FREE Children's program.