Andy Offutt Irwin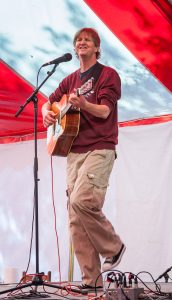 With a manic, Silly Putty voice, astonishing mouth noises, and heart-filled stories, Andy Offutt Irwin is equal parts mischievous schoolboy and the Marx Brothers, peppered with a touch of the Southern balladeer.
A storyteller, theater director, singer-songwriter, and Shakespearean actor, Andy has been Artist-in-Residence at Emory University's Oxford College since 1991. He has performed at LaGuardia High School of Performing Arts in New York, The Library of Congress, Walt Disney World, and and he has been a Featured Teller at the National Storytelling Festival nine times (as of 2017).
Andy's character-filled, one-person shows and storytelling performances center around the adventures of his eighty-five-year-old-widowed-newly-minted-physician-aunt, Marguerite Van Camp, a woman who is keeping her finger on the pulse of the changing world around her as she seeks to grow – even at her advanced age– in these United States and the New South. Every show includes original songs, and of course, whistling. Please note, Andy's grown-up shows are family friendly.
 Kevin McMullin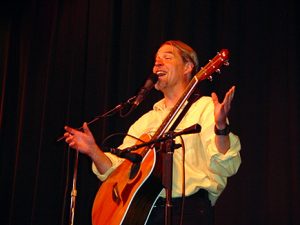 Kevin McMullin is a performer that defies categorization. Storyteller, musician, song writer, author, composer, educator and enchanting entertainer, McMullin has performed for audiences on four continents. His extraordinary combination of music and narrative, humor and drama, using traditional and original material has won him enthusiastic fans all over the world. Locally, he has made multiple appearances at the Big Top Chautauqua, the La Crosse Story Telling Festival, the Overture Center, and many, many other venues.
Sadarri Saskill
Sadarri Saskill is part of a vivacious family of teaching artists that brings a unique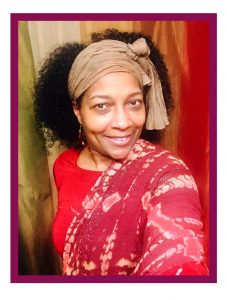 blend of language, music, movement, and humor to their high-demand interactive programs!  They have performed worldwide in English, French, Spanish, Haitian Creole, and Sign Language for audiences of all ages. Their innovative stories and songs have been showcased in numerous award-winning audio and video recordings and have been featured in scores of books, magazines, and newspapers throughout the United States. 
Karen Wendt
Karen Wendt is a spirited Storyteller and Youth Services Coordinator for the Monona Public Library in Wisconsin. Her repertoire features folktales and fun stories from here to Mexico and back again. Children are always eager to taste Karen's imaginative recipes: a sprinkle of puppets, a dash of sign language, a pinch of music, and ten pounds of wiggles. Teens and adults especially enjoy her heartfelt "home-grown" tales of Wisconsin life. Consulting and presenting to schools, libraries, festivals and more, Karen is a visual and performance artist you won't want to miss!
Chad Filley
Storyteller,  Comedian, and Author are just a few words used to describe Chad Filley. This versatile Twin Cities communicator has entertained audiences of all ages throughout the United States and Canada. Think of a group and Chad has probably performed for them. He's been everywhere man, just like Johnny Cash.  He's spoken at corporate functions, prisons, comedy clubs, school groups, festivals, banquets, and churches.
Chad has the unique ability to take everyday situations and spin them into side-splitting, laughter filled tales. Then like a master rollercoaster operator Chad will throw a sudden twist at his audience adding an unforeseen real-life turn.  His blend of comedy, tragedy, and heartwarming accounts have left his audiences spellbound.
Doug the Jug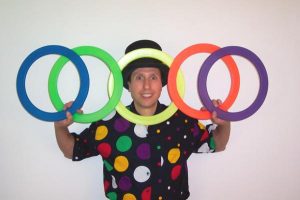 "Doug the Jug" performs a humorous juggling extravaganza for children and adults of all ages. 
Whether juggling five colorful rings or three small children, you never know what astonishing feat Doug will attempt next!  
His performances are family oriented and include choreographed juggling, a touch of magic and lots of audience participation.
Hans Mayer
Local and nationally known Hans Mayer has entertained audiences of all ages for decades. His performances are full of fun and energy and he gets the audience rocking with his songs.
Mike Caucutt

Mike Caucutt, Larryfest and Great River Folk Fest songwriting contest winner, has been a staple to the La Crosse music scene for over 30 years.
Whether singing with his band Mr. Blink, or performing solo, his original songs are Midwestern slices of small town struggles, hope and dreams.
He also plays in the local children's super group "The 3 Dads".