Michael Reno Harrell
Michael Reno Harrell is an internationally known storyteller and an award-winning songwriter. Hailing from Appalachia, Michael has performed in much of Europe and most of the U.S. including being a Featured Teller at the National Storytelling Festival in Jonesboro, TN and Teller in Residence at the International Storytelling Center. His original stories and songs have been described as "Appalachian grit and wit".  This is Michael's second time performing at the La Crosse Storytelling Festival and we are thrilled to have him return. His humor and wit, as well as the emotional depth of his work, keep his fan base growing throughout the country and certainly here in La Crosse. Don't miss the chance to experience what keeps his faithful fans returning again and again. http://www.michaelreno.com

Megan Wells     
   An award-winning storyteller, Megan Wells performs in museums and with symphonies, at festivals and schools, in theaters and for Fortune 500 companies.  With over forty years of experience, Megan has a vast repertoire.  She tells traditional tales, multi-cultural myths, historical events, as well as personal and true stories.  Perhaps her daughters say it best, "Mom's a storytelling jukebox.  Put a quarter 'n, pick your favorite                                                                                                                                                                                              
A nationally known storyteller, the Chicago-area native has been awarded the Circle of Excellence Award from the National Storytelling Network, Parent Choice awards, and the Distinguished Achievement Award from Education Press, among other awards. Megan has also performed at the National Storytelling Festival in Jonesboro, TN.                                                                                                                                                                           
We are very pleased to have Megan Wells perform at our festival. http://meganwells.com
               
Teju
Teju Oligboni is a storyteller, folklorist, educator and oral historian. He comes from a long family tradition of storytellers going back to his great grandfather and has entertained audience of all ages throughout the U.S.
Teju's stories are drawn from African traditions and African American history and folklore. His high energy, fast paced and witty performances are spellbinding. These riveting performances always hint at wry humor, revolutionary teachings, and lessons in love. In addition to his repertory of original stories, Teju is an accomplished percussionist—his performances rock!
Teju is returning to the La Crosse Storytelling Festival and we are thrilled to have him back.  http://tejuthestoryteller.com 
Sue and Cindy
Sue Wrobel and Cindy Selin, both preschool teachers by trade, began working together 40 years ago.  It didn't take them long to realize that they both hold a passion for music and that playing and singing together increased the fun.  Their audience, comprised of the children they served, were delighted to sing and dance along.  Sue and Cindy combine voice, actions, sign language, and puppetry with ukulele,  mandolin, violin, dulcimer, piano and rhythm instruments to get children moving and singing.
Miller and Mike
Miller & Mike have worked all over the U.S.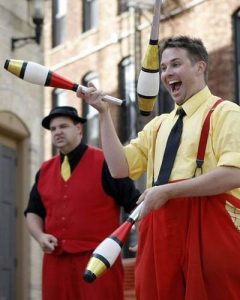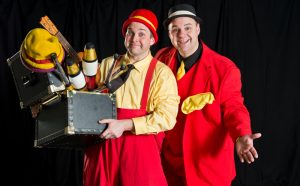 and beyond. They have entertained audiences with the Ringling Bros. and Barnum & Bailey Circus, Royal Caribbean Cruise Line, Apple Vacation Resorts, MTV, The Today Show, Extreme Makeover and the Travel Channel. They now perform around Wisconsin at libraries, fairs, festivals and corporate events. The energy they bring is unlike any other show you've seen before. Combining circus skills and audience participation with good clean comedy Miller & Mike are making memories one show at a time. Miller and Mike performed at the festival in Myrick Park several years ago; we are so pleased to have   them join us again this year.   http://millerandmike.com