We are pleased to announce that our 2020 Festival will feature:
Kevin Kling
Kim Weitkamp
Bil Lep
                                                                                                                                                                                       
     All of these tellers are often on the National Stage at the Jonesboro Storytelling Festival. This is an exciting line-up for La Crosse with the best storytellers in the country. More information about these performers to follow.                                                                                                                                                          
Miller and Mike
Miller & Mike have worked all over the U.S.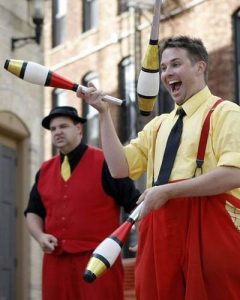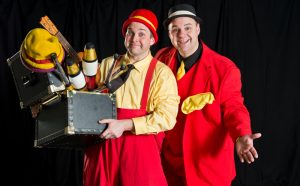 and beyond. They have entertained audiences with the Ringling Bros. and Barnum & Bailey Circus, Royal Caribbean Cruise Line, Apple Vacation Resorts, MTV, The Today Show, Extreme Makeover and the Travel Channel. They now perform around Wisconsin at libraries, fairs, festivals and corporate events. The energy they bring is unlike any other show you've seen before. Combining circus skills and audience participation with good clean comedy Miller & Mike are making memories one show at a time. Miller and Mike performed at the festival in Myrick Park several years ago; we are so pleased to have   them join us again this year.   http://millerandmike.com